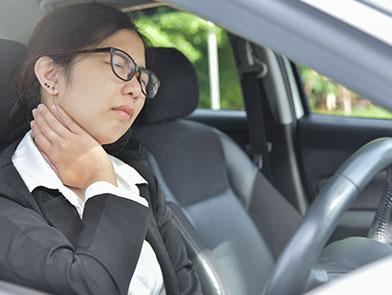 The Association for Safe International Road Travel finds that Nearly 1.3 million people die in road accidents every year. Many people who survive these accidents struggle, for months or even years after, with long-term injuries and disability. Even if you are not in immediate pain following a collision, seeking immediate Chiropractic care can help prevent years of chronic pain.
Chiropractic care is one of the best ways to treat car accident injuries. Chiropractic adjustments correct misalignments in the spine and help restore normal function to the nervous system so the body can heal naturally.
While many doctors will prescribe painkillers to relieve pain, a Chiropractor can help heal even severe car accident injuries without the use of drugs. Through careful chiropractic care, we tailor our treatments to address each patient's unique conditions, pain levels, and needs. Our Chiropractors know how to treat a wide variety of injuries due to a car accident.
Neck Injury
An auto-related neck injury can be caused by the same jolting and torquing forces that cause back injuries. Mild forms of neck injury include problems like a strain or whiplash, while more serious injuries include an injury to the disc or cervical radiculopathy. During your visit, we will perform exams to locate the source of pain and ask questions about current symptoms and remedies you are trying.
We will also do physical and neurological exams. In the physical exam, we will observe posture, the range of motion, and physical condition. We will note any movement that causes pain. Your doctor will feel your spine, note its curvature and alignment, and feel for muscle spasm. A check of your shoulder area is also in order. During the neurological exam, we will test reflexes, muscle strength, other nerve changes, and the spread of pain throughout the body.
We may recommend a neck adjustment that involves applying pressure to the joints of the neck by hand. A neck adjustment works to improve the mobility of the spine and to restore range of motion; it can also increase movement of the adjoining muscles. Patients typically notice an improved ability to turn and tilt the head, and a reduction of pain, soreness, and stiffness.
Of course, we will develop a program of care that may combine more than one type of treatment, depending on your personal needs. In addition to manipulation, the treatment plan may include mobilization, massage or rehabilitative exercises, or something else.
Whiplash Treatment
Whiplash is by far the most prevalent injury that happens after a car accident. Whiplash occurs when one's head whips back and forth by a sudden jarring impact, such as hitting an object with a car or being hit by another vehicle. When this happens, your neck does not have time to prepare, causing it to move past its range of motion. This motion strains the soft tissues that support the neck.
The vertebrae of the neck and spine can also move out of alignment by a powerful force. At first, you might not even realize you have whiplash since the symptoms do not appear right away. In fact, the symptoms can take several days to several weeks to appear. Typically, symptoms are more severe if there was a big impact or the headrest was placed too low.
Upon visiting our practice, we will conduct an evaluation of the spine and order an X-ray to evaluate any degenerative changes. There is a possibility that there may be pre-existing degenerative changes before the whiplash injury. We will compare the diagnostic images and results of the physical and neurological evaluation to develop the best treatment plan. We will work on reducing neck inflammation using various therapy modalities.
We may also use gentle stretching and manual therapy techniques (muscle energy therapy, a type of stretching) and also recommend applying an ice pack on the neck for a short period of time. As your neck becomes less inflamed and the pain decreases, we will perform gentle spinal manipulation or other techniques to restore normal motion to the neck's spinal joints.
Back Injury
Auto-related back injuries can occur for a number of different reasons, including a sharp and jolting impact, twisting of the body during impact, or being whipped around too quickly. There are a number of different back injuries that can happen in an auto accident, including herniated and protruding discs, sciatica, sprains, strains, thoracic and lumbar spine injuries, or fractures.
Often, pain from these injuries does not occur right away, meaning you might not realize you are injured until days after the accident. With proper chiropractic care, the pain will get better over time. Car accident back injury treatment for acute back pain will probably include a series of manual adjustments.
These adjustments will gently manipulate the affected joints using controlled force. This process will help to improve the range of motion and the quality of that range of motion. Massage therapy, physical therapy, and back-specific exercises may also be advised by your chiropractor to help restore full functionality of the back and the affected area, to prevent further injury.
If you would like to learn more about chiropractic care for auto-related injuries and the various treatments we provide, call (732) 504-6572 to schedule a consultation.