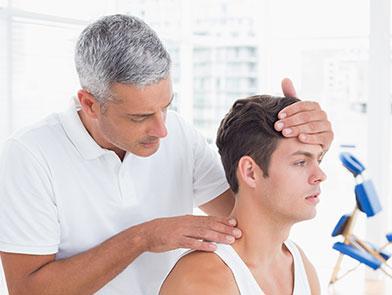 A migraine is a recurrent throbbing headache that typically affects one side of the head and is often accompanied by nausea and disturbed vision. While headaches can affect any side of the head, migraines are frequent and tend to severely affect one side of the head.
So what are your options if you are suffering from migraines? Often times, people find that standard pain relief medications do not treat migraines effectively. That is why many turn to chiropractic treatment for migraines. A chiropractor is a healthcare professional who focuses on the diagnosis and treatment of neuromuscular disorders.
As a chiropractor, we also hold an emphasis on treatment through manual adjustment and/or manipulation of the spine. We seek to reduce pain and improve the functionality of patients as well as to educate them on how they can account for their own health via exercise, ergonomics and other therapies to treat pain.
Migraines and Chiropractic Care
Spinal manipulation with chiropractic care has been a lifesaver for some migraines, but it is important to collaborate with your headache specialist before initiating chiropractic care. Your headache specialist may even be able to refer you to a chiropractor who specializes in treating patients with severe migraine headaches.
It is important to note that each patient is unique and will require a different type of treatment. Thus, this treatment may not be for everyone. Chiropractic adjustment may interfere with some migraine medications and it's contraindicated in patients with osteoporosis, nerve damage, numbness, tingling or loss of strength in an arm or leg. Most people report feeling a little off following their first chiropractic appointment. These symptoms might include a slight headache, feeling tired, soreness in the spine and stiffness. It could take a few weeks to see any results in migraine frequency or intensity following chiropractic care.
You can take care of yourself after your adjustment by drinking a lot of water, resting, taking a hot back and getting a good night's sleep. Spinal adjustments are not a cure-all for everyone with migraines. During your visit, we may offer heat and ice treatments, massage, and strengthening and stretching exercises. In addition to spinal adjustments, we may also recommend at-home exercises you can do to work on tension and discomfort in your neck and spine.
Headaches and Chiropractic Care
Headaches are actually the third most popular reason that adults in America seek chiropractic care. Chiropractors are primarily concerned with helping correct any neuromusculoskeletal (nerves, muscles and bones of the body) source of your headache. He or she will perform a special spinal examination to determine whether the symptoms may be alleviated by chiropractic care. The examination can determine whether a headache results from any misaligned vertebrae in the spine, a condition known as a subluxation.
This condition may be creating undue nerve interference. Chiropractic care may help prevent unnecessary tension and/or irritation in the neck and head. In some instances, chiropractic adjustments can provide immediate relief for headache victims. Every headache victim is an individual case and may require special instructions or recommendations from their chiropractor.
TMJ and Chiropractic Care
Patients suffering from TMJ often explore a variety of solutions for their pain. Understanding the role that chiropractic care can play in the treatment of TMJ can help patients decide whether or not it chiropractic care is right for them. TMJ is a dysfunction of the temporomandibular joints, located on each side of the head at the top of your jaw. The temporomandibular joints are what enable you to eat, talk, and yawn.
When this joint fails to work properly, this can cause pain in the jaw whenever the mouth is in use. TMJ can occur for a variety of reasons. Grinding your teeth, stress, injury and even osteoarthritis can all cause TMJ. For some people, the first sign of TMJ is a pain in the jaw when using the mouth. For others, signs of TMJ may include clicking or popping noises in the jaw when opening and closing the mouth, difficulty opening the mouth all the way, dizziness, headaches, toothaches, neck pain, swelling on one side of the face or locking of the jaw.
We may treat TMJ in different ways depending on the cause. For some patients, TMJ is a manifestation of stress and due to tooth grinding. For these patients, stress management is an important part of treating TMJ. We may administer lifestyle advice to help these patients manage their stress in more productive and healthy ways. Using breathing techniques, performing stretches and exercises and eating a healthy diet can help patients manage their stress and control symptoms of TMJ.
If you would like to learn more about migraine chiropractor and the various treatments we provide, call (732) 504-6572 to schedule a consultation.